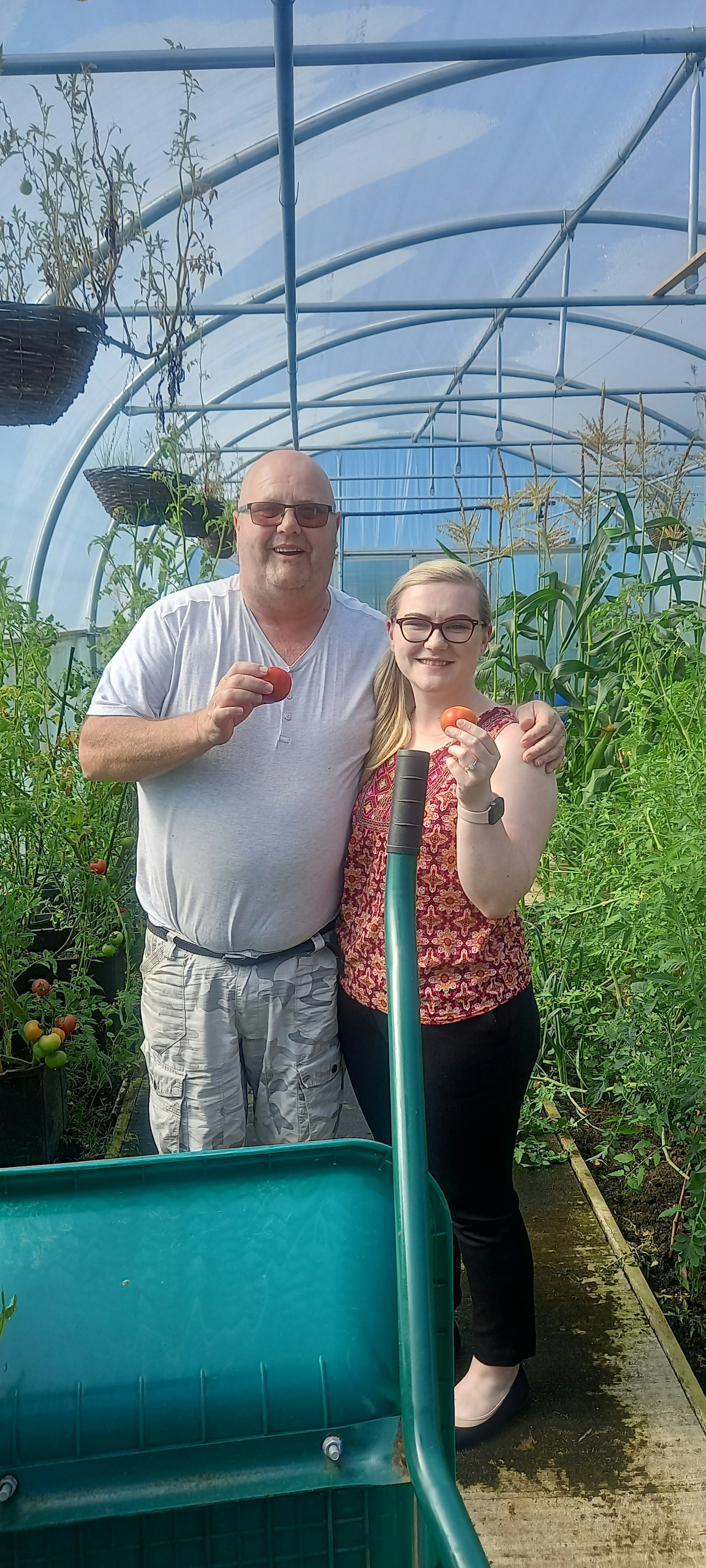 As the temperature soars, some of our groups are taking a well deserved break for the summer but there is still plenty of activity. Our guys down at Harryville Men's Shed are getting stuck into Harryville Community Garden and working towards an exciting Open Day in September. This will coincide with the Shed's 10 year anniversary! A apecial thanks to Denver McMeekin, the Shed's Chairman who puts in the time, energy and heart to keep this much needed project going. Also in Harryville, Brookeville Ents had their young helpers at Scullery O'Tullagh Allotments to harvest some of the spuds that they planted in the Spring. Harryville Residents Association are approaching their 1 year anniversary and have made a special video of highlights over the year, which can be viewed here Well done to all the guys for all their work over the year.
In Ballee, members were glad to get back to their Luncheon Club after a couple of weeks off in July. We have a few new members and it is so lovely to see some new faces. The doors are still open to new members, and the Club costs £5 per week for a lovely cooked meal and activities. This week the ladies took part in a Breast Screening Awareness session delivered by the Women's Resource & Development Agency, so a big thanks to Pamela for organsiing this, the ladies found it very informative.
Our Ballykeel groups continue to be busy over the summer with Ballykeel 1 Moving Forward Community Group officially opening their Garden of Reflection at Barra Drive. This project was funded and supported by NIHE and we'd like to thank Roy McClean and John Read for their assistance with this. Ballykeel 2 & District Community Association are also keeping themselves busy over the summer and have recently recieved the fantatsic news that the Ballykeel Building Blocks Parents & Tots group will be back in September! Ballykeel Together Development Association will also be back in September with their Bright Stars Youth Club for children with additional needs.
Last but not least, the Ballymena South Community Cluster will be holding an event and we are inviting over 30 organsiations that offer support to the community. This will be hosted at Harryville Community Centre on Thursday 6th October between 3-6pm. We would encourage you all to drop in and find out about all the good work that is happening in the area. Watch this space for more news!
---
"Hi, I'm Hannah, I encourage you to reach out and get in touch"
— Hannah Bowyer
Community Development Officer (CDO)
Get in Touch