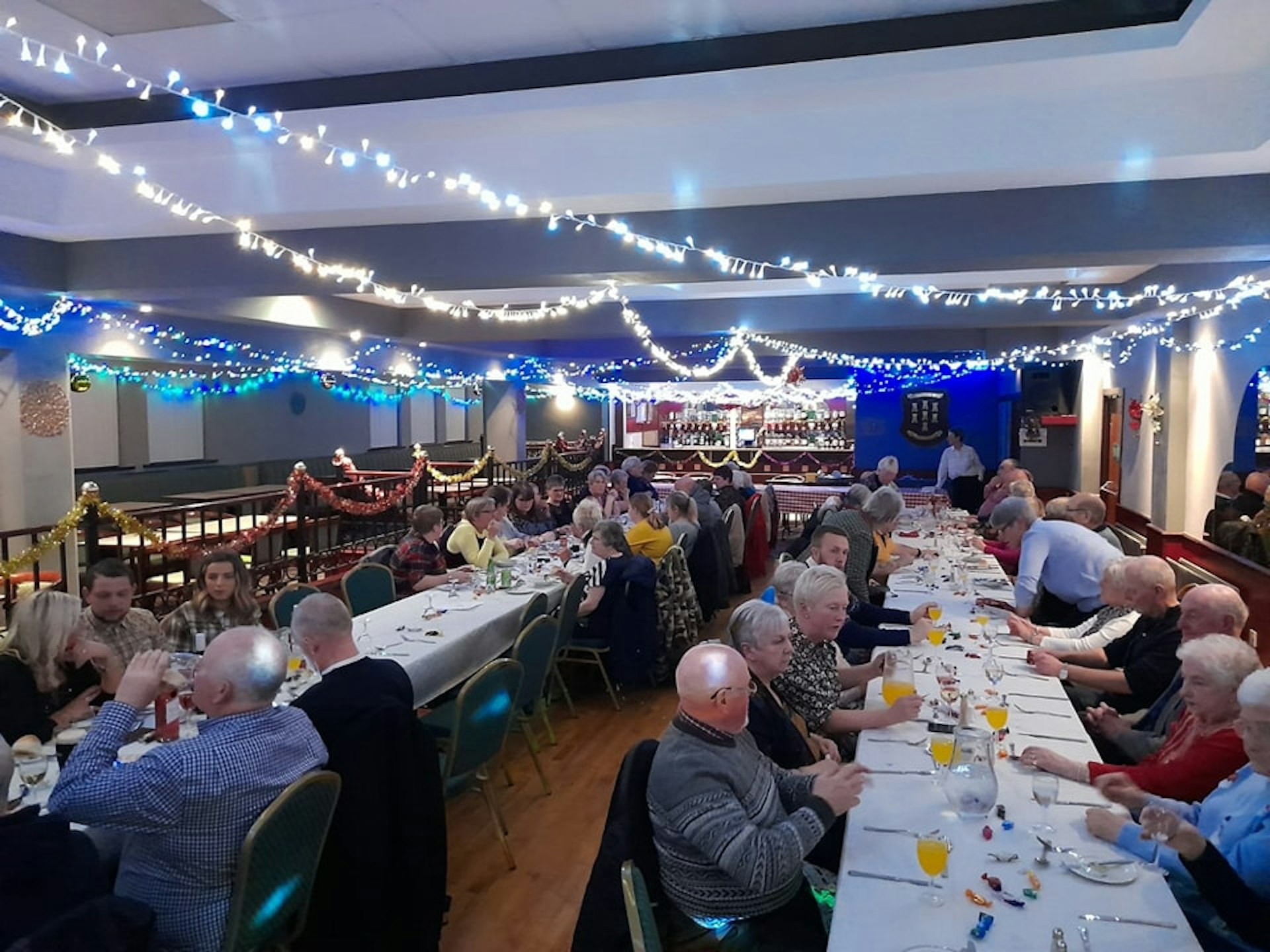 English author Sara Coleridge once wrote "January brings the snow" and sitting here with the outside of the office buried in white we can hardly say she was wrong. The snow has been falling for quite a few days now, making staying warm difficult at best, and with the rising cost of living it feels a little like it's only going to get harder. The groups of the Ballymena South Community Cluster are ever-looking for ways to ease the burden and introduce new opportunities for those around them and, with such cold weather, so many have turned to a lovely initiative known as 'Warm Spaces', allowing them to provide free hot food and a warm space for anyone struggling with the old adage of 'heat or eat'. These Warm Spaces have been supported by MEA Borough Council with small pots of funding, and we appreciate these joint pursuits for the common good.
A great many of the groups in our area have taken the idea and run with it; Ballykeel 2 and District run a breakfast every Monday and Friday from 9am to 11am and an evening meal on Wednesdays from 5pm to 7pm, both in the Ballykeel Community Centre. The Carson Project has been providing a hot lunch in the Harryville Presbyterian Church Hall every Friday from 12 noon to 1.30pm. Ballee Community Association contribute with a group every Thursday from 12-2pm in the Ballee Community Centre with a meal every other week. The Harryville Residents Association have begun offering their group, 'The Hub', every other Wednesday from 7.30-9pm in the Harryville Community Centre. Even Scullery O'Tullagh have joined in, serving 'A bowl o' soup and a bit o' wheaten' every Friday from 12-3pm at the Ballymena Services Club. We here at the Ballymena South Community Cluster would absolutely encourage everyone who has the time to attend one or more of these wonderful groups. With all these Warm Spaces in action Community Centres have been getting fully booked, and one of our Cluster groups Ballykeel Together Development Association have opted for a monthly delivery of meat parcels for members of their Mature Adults Luncehon Club and this is also going a long way to support members of the community.
Beyond the cold weather and the warm spaces, our groups have been busy as per usual. In Ballykeel, Ballykeel 1 Moving Forward's Christmas dinner went wonderfully, with more than 70 people getting a good meal and a lovely little gift bag. Their Knitting and Health and Wellbeing groups have both resumed after the winter break, with their Cafe returning on the 7th of February. Ballykeel 2 and District joined the Ballykeel Bear to give a little something to their community before Christmas, handing out selection boxes for the kids and hot water bottles for the older ladies and gents. This side of the new year they've begun a 3 week DJ course that started on the 20th of January, and their Parents and Tots group started back on January 10th! Elsewhere in Ballykeel there was plenty of excitement for the Bright Stars Youth Club run by the Ballykeel Together Development Association. While it was meat parcels for the older people earlier in the month, I think the kids got the better end of the deal with the wonderful Christmas party, complete with a rather unusual looking reindeer coming along! And now, after a short break over the winter holidays, the Youth Club is back in business since the 12th of January.
Over in Harryville, things are a little calmer, though not by much! The Carson Project's Women's Group spent a lovely time before the holidays making Christmas centrepieces and wreaths before taking a well-earned break for the Winter holidays. Harryville Resident's Associations are gearing back up in the new year, with their Parents and Tots group back up and running, and with plans in motion to get back out onto the streets this coming Saturday for their ever-successful 'Big Clean Saturdays'. Harryville Partnership initiative's Youth Christmas party was a big hit, with a full 71 children attending! And Scullery O'Tullagh is buzzing with the turn of the year and looking for new people to join them out on the allotments. They've set up a lovely little Volunteer 'Open Morning' this Friday, 27th of January complete with a delicious lunch containing fresh produce grown there!
Finally we come to Ballee, where the Ballee Community Association's 60+ Luncheon Club's Christmas dinner was considered a great success with loud music, an exciting raffle and sweets for everyone. After their own break over the New Year the Club is back up and running and looking forward to some exciting upcoming events! The Ballee Childcare Centre is also busy with the new year, getting ready for the upcoming school year with applications now open for their Pre-school after an open day on the 4th of January.
All in all everyone is settling back into community work after a well-deserved break and the cold weather certainly isn't keeping them down! As always, keep an eye on our Facebook page for updates. For more information about our Cluster Community activities or if you have any questions, please contact us on 02825 631 350 or email hello@ballymenasouth.com.
---
"Hi, I'm Hannah, I encourage you to reach out and get in touch"
— Hannah Bowyer
Community Development Officer (CDO)
Get in Touch